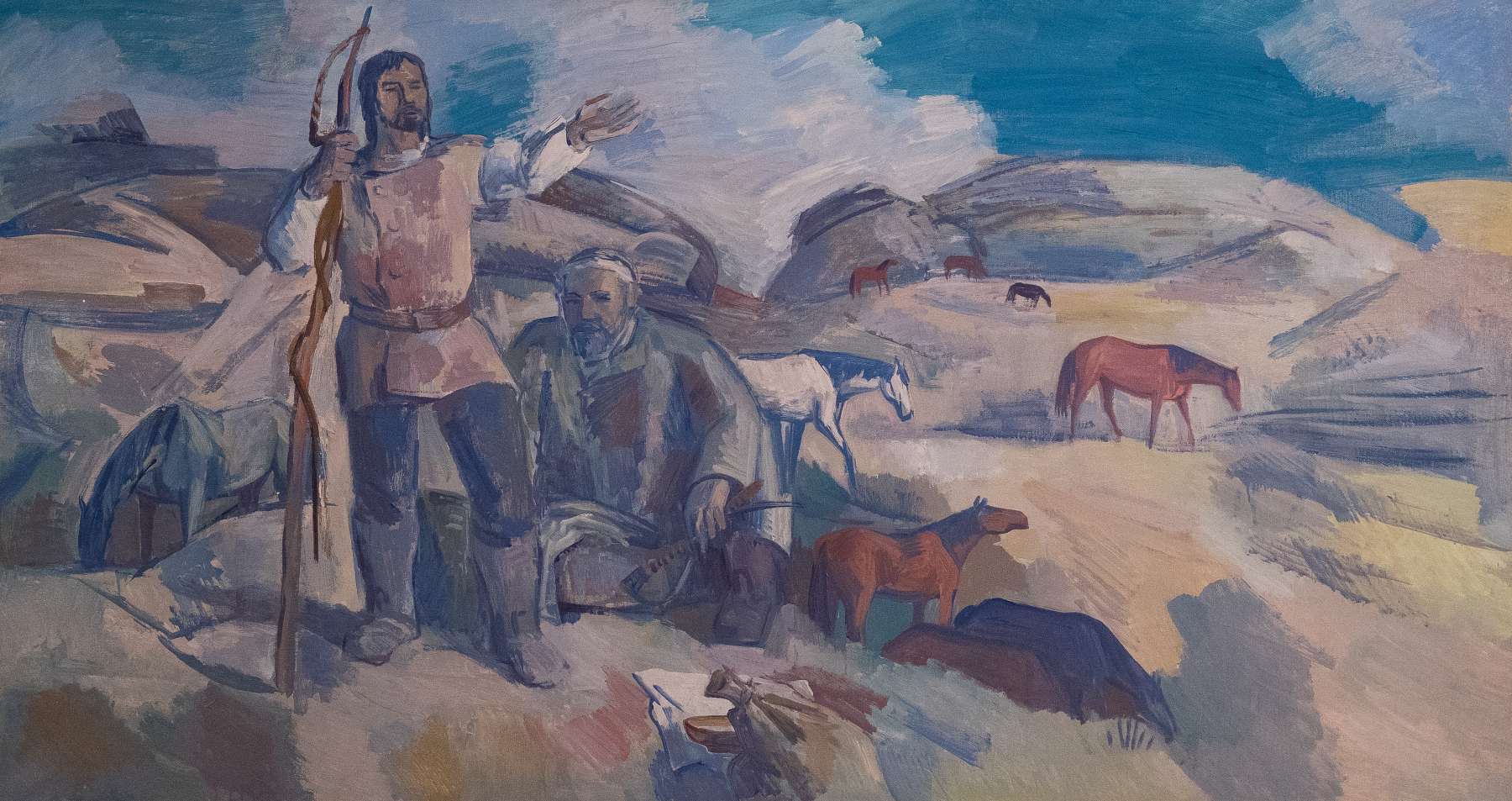 Horseherds. 1974 yr.
In front of us are the images of two male herdsmen in the steppe. They graze livestock in hot summer weather. In the foreground we see a young man standing full of strength. He has a white shirt, over which is a brown jacket, dark pants, and a skullcap on his head. In his right hand he holds a long stick to help him graze a herd of horses, his left arm is stretched out; he is showing something to a sitting elderly herdsman. The elderly herdsman listens attentively to the young man. The old man sits on the ground, wearing a long jacket and a skullcap on his head. In the background there is a hilly steppe, with grazing horses. Gradually the steppe extends to the horizon and merges with the blue sky and white clouds.
Salihitdin Aitbaev
Born on 15.02.1938, Kyzyl Orda – September 28, 1994, Almaty. Honoured Art Worker of the Kazakh SSR. Laureate of the Leninist Komsomol of Kazakhstan Prize. In 1961, he graduated from the Gogol Art College; he studied under supervision of M. Kenbaev and U. Azhiev. Participated in exhibitions since 1961. Member of the USSR Union of Artists since 1965. He lived and worked in Almaty since 1961.
Author

Salihitdin Aitbaev

About the author

Born on 15.02.1938, KyzylOrda – September 28, 1994, Almaty. Honoured Art Worker of the Kazakh SSR. Laureate of the Leninist Komsomol of Kazakhstan Prize. In 1961, he graduated from the Gogol Art College; he studied under supervision of M. Kenbaev and U. Azhiev. Participated in exhibitions since 1961. Member of the USSR Union of Artists since 1965. He lived and worked in Almaty since 1961.

Era

XX centure

Year

1974

Materials, technic

Oil on canvas

Size

106.5 х 194

Location

National Museum of the Republic of Kazakhstan

Inventory number

ҚРҰМ(ҰСГ НҚ тк1-210)